Love Notes is the fulfillment of a dream of mine. For some time now, I've wanted to collaborate with bassist Paul Keller on a very personalized recording. Since I first met him on that magnificent evening in 1984 when the Detroit Tigers clinched the World Series, our musical relationship has grown deeply. "Love Notes", the translation of Las Notas de Amor is an appropriate title for this CD; a lot of TLC went into the making of this recording. With Paul as my partner, the dream has finally come to fruition. We believe the molding of the program and designing the various intricacies are a major part of a successful presentation - as important as the players' solos.
I'm also very pleased to present the wonderful creative talents of vibraphonist Cary Kocher and drummer Pete Siers. Paul, Cary and Pete are a triumvirate of great musicians; helpful, thoughtful, and inspirational. I know you will enjoy their contribution as much as I enjoy making music with them.
Clifford Brown's "Joy Spring" kicks off our 'digital concert.'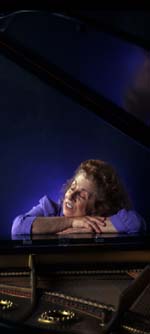 I had fun weaving the harmony of Charlie Parker's 'Confirmation' into the solo section of "Joy Spring." Cary takes the first solo and 'tears it up'. What a fantastic soloist he is! I follow with two piano choruses, then a "Confirmation" ditty sets up the bass solo. This has a joyful feel throughout.
Three of my compositions appear on this recording; each with its own unique textures and challenges for the soloists. "Cote d'Azur," a waltz, depicts in my imagination a 1940's black-and-white film, set on the French Riviera. In my mind's ear, I originally heard the dulcet tones of the French musette playing the theme. Cary Kocher's extraordinary musicianship and sensitivity bring a new dimension to this piece.
I wrote the Bb minor, 16-bar A sections of "Las Notas de Amor" in 1966. It wasn't until 1990 that I added a 32-bar bridge in Bb minor, bringing it to its present 80-measure form. I love improvising in a Latin feel, and especially over such voice leadings as this tune affords. Cary plays an inspired solo and we borrow the Charleston rhythm to launch Pete's clever drum 'eights'.
"Foolish/Favorite Things" is a nifty combination of two of my favorite songs, based on an arrangement by Canadian Don Franks. The lyrics of "These Foolish Things" are superimposed over the melody and harmony of "My Favorite Things," then vice-versa. It's quite a brain-teaser when both melodies appear together in the last 24 bars. I've played this as a solo piece but in this arrangement Cary, Pete and Paul confound the overlaps even further. I love it!
When Paul and I first began planing this project we considered the many different directions we could take. Paul offered lots of great tune ideas and we settled on two goodies: "Mr. Sandman" and "Aurex." Who'da thunk it - Mr. Sandman as a swinging jazz vehicle for Pete on the brushes! This one is really fun to play and listen to. Pete is a total pro, and is integral to the solid feel of this album. Thank you Pete!
Jerome Kern is one of my favorite composers of American popular songs, and I include two of his finest in this presentation. The lesser-known "Remind Me," which has great meaning for me, is wonderfully poignant and deeply passionate. It is performed here in a slow, romantic ballad style with only piano, bass and voice. Just one chorus is all you need to hear to fall in love again with Kern's music and Dorothy Fields' stunning lyrics.
"All of Paul" is my personal tribute to 'Paulibus', my favorite bassist and my dear friend. It features a tricky melody line based on the chorus of "All of Me," played in unison by the quartet. Paul really rings the bell with his two marvelous choruses. Whether soloing or accompanying on the string bass, composing, arranging or leading his 16-piece Bird of Paradise Orchestra, Paul is one of the most consistently swinging, listenable and creative musical souls I have had the pleasure of knowing-a real powerhouse!
So many wonderful songs have been written about the City of Lights. "Ah, Paris!" is a medley of four great ones, beginning with Cole Porter's "I Love Paris." Edith Piaf's classic "La Vie en Rose" is next, followed by Vernon Duke's "April In Paris." It seemed very appropriate to conclude with the great Dave Frishberg's tongue-in-cheek documentary, "Another Song About Paris." Vive Paris!
"All The Things You Are" is the second Kern song on the CD. Because of its perfect harmonic structure, this tune is often used to showcase soloists but I think it deserves a more thorough treatment, including changes in texture and feel. I've included the beautiful, rarely heard verse, move into ballad tempo for the bridge, and then we swing the solos. First Cary, then me, then a chorus of classical-style counterpoint. I've also included an adventurous shout chorus. Good clean fun!
"Spring Is Here" is me alone. I wanted to play some solo piano on this album and I found harmonies that stretch this Rodgers and Hart tune a bit.
The closing tune, "Aurex," was written by west coast trumpeter Shorty Rogers is dedicated to the Aurex Jazz Festival in Japan. This is a beautiful, floaty etude with a hard-swinging bridge and blowing changes similar to "I Got Rhythm." Once again, strong solos and mutual support throughout adorn this fascinating bauble.
I was exhilarated, breathless at times, in planning this CD with Paul and in working with the quartet. We kept each other in stitches throughout the recording sessions and the humor comes out in the music. I am thrilled with the final product. And so, this album, these tunes, these NOTES OF LOVE are our special gift to you. Enjoy!
Bess Bonnier
July 21, 1997