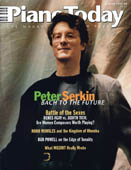 The Winter 97/98 issue of Piano Today® Magazine featured "Las Notas De Amor" the title piece from "Love Notes" and a Bess Bonnier original composition.
Accompanying the sheet music for this Bess Bonnier original composition, were some words from Bess about writing this piece:
---
"Las Notas De Amor" is the title song of my new CD, the English translation being "Love Notes." Several years ago I wrote the A strain; this final version, which includes the bridge, came in 1990, in the following manner.
I said something about the value of my taking some courses in composition at one of the local music schools. (Somewhere inside me, though, I knew it was highly unlikely that I would do such a thing.) As we parked in front of my home, my friend, Richard Bennet, said, "I don't know what to tell you, Bess. All I know is ... a writer writes."
A wonderful feeling of excitement, elation and motivation suddenly poured over me. As I ran up the steps of my porch, his words were ringing in my ears and a light flashed in my mind: A WRITER WRITES! I headed immediately to my piano. Subsequently, in quick succession, I wrote six new pieces, including the bridge to "Las Notas."
The spontaneous moments (which seem to come from some place other than my head) are not as frequent as I would like them to be. I feel very fortunate to come upon them when they do visit.
"Las Notas" is sixty-four measure song in AABA form -- for reasons of space, the entire piece does not appear in this issue. I chose the "Hot" samba beat as the rhythmic underpinning of the song. Because it is Latin in feel, it readily lends itself to lavish sprinklings of the montuno figures so prevalent in that genre of music.
Ultimately, I hope it is 'player friendly.' I encourage you to stretch out and have big fun with it.
--- Bess Bonnier
(For sheet music - pick up the back issue of Piano Today)