Miss Bonnier has found her own success in the Motor City with a wide array of activities that has made her name synonymous with fine jazz piano.
Detroit-born, Miss Bonnier (pronounced BONN-yer) came of age in the same 1950's Detroit that produced a veritable "Who's Who of Jazz," including Harris, Flanagan, the Jones brothers, Sir Roland Hanna, and so many others. After graduating from Northern High School with Tommy Flanagan, she studied Music and English at Wayne State University before striking off on her own as a pianist. She first gained a measure of national attention in the late 1950's when Argo Records released her album entitled Theme for the Tall One. That record, long out of print, has become a collector's item.
In the 1960's, Miss Bonnier was the house pianist in the Jack Brokensha quartet in the latter's Detroit nightclub. During the 1970's she served as artist-in-residence at Detroit's prestigious Cass Technical High School and her video "Jazz History" course, created for Wayne State University's Adult Education Program, has been used over and over again since it was originally recorded.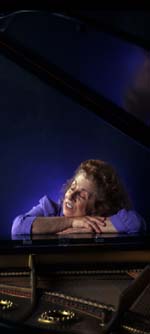 From 1977 to 1980, she was the artistic coordinator for the Detroit Institute of Art's popular Jazz at the Institute series which featured both local Detroiters and internationally-known jazz musicians. Her performance in the series have been broadcast over the National Public Radio jazz stations.
Since 1982, Miss Bonnier, who has been called a "great jazz pianist" by Leonard Feather and a "jazz player of great feeling" by Ira Gitler, has been the regular solo pianist in the Detroit Institute of Art's Crystal Gallery (a re-creation of New York's Plaza Hotel Palm Court) each Sunday afternoon. By popular demand, her artistry sets the mood for the After Glow at the DIA's fabulous Elizabethan Wassail Feast each December.
In addition to a non-stop schedule of private engagements and teaching workshops, Miss Bonnier has performed in several Montreux Detroit Jazz Festivals, played in the 1982 Kool Jazz Festival in Purchase, New York, and was one of the featured pianists, along with Barry Harris, Sir Roland Hanna and Tommy Flanagan, in the New York City program called the "Detroit Piano Summit".
Suite William(Noteworks Records, 1999) and Love Notes(Noteworks Records, 1997) are the latest releases from Miss Bonnier. Her previously released fourth recording, Bess Bonnier and Other Jazz Birds (Noteworks Records, 1985), included her latest original compositions and had guest artist appearances by Pepper Adams (baritone sax), Sir Roland Hanna (piano), Carol Sloane (vocal) and Larry Nozero (alto sax and flute). Her earlier recordings include Duet to Quartet (released on Noteworks Records in 1984), Theme for the Tall One and The 26th Floor. Bonnier also has been featured on several other jazz recordings as a guest artist. Together with Paul Keller and vibist Jack Brokensha, Bess released the holiday classic CD, XMazz (AEM, 1994).