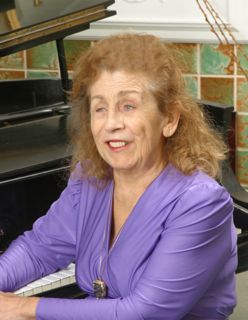 Bess Bonnier
May 26, 1928 – October 6, 2011
A Life Well Played

Bess Bonnier, 83, died Thursday, October 6, 2011 at her home in Grosse Pointe, Michigan. She was preceded in death by her sisters, Toula Dirksen, Loretta Anawalt and Paula Anawalt; and by her daughter-in-law, Lynette (Tosetti) Makres. She is survived by her sister Lita McKeehan and brother John Bonnier; her children, Dorian, Stanley and William Makres; daughter-in-law Karen (Podsiadly) Makres, and granddaughter Marissa Makres.
Bess began playing the piano at an early age taking her first professional job with a big band at 13. She joined the Detroit Federation of Musicians in 1946. Her career spanned over six decades and included regular appearances with Jack Brokensha at his club in Detroit's New Center area, and at countless other clubs and hotels, concert and festival venues, private parties, events and local resorts. Highlights of her stage career include a performance in 1981 at the "Detroit Jazz Summit" in New York City with Barry Harris, Tommy Flannagan and Roland Hanna. In 1994 she played in Brussels, Belgium with Jack Brokensha at the Very Special Arts Festival. In 2004 she appeared with the a capella vocal group "Coda" at the Jazz Cava in Terrassa, Spain and in 2006 was invited to perform a solo concert at the Library of Congress in Washington D. C.
Bess was a regular guest of the Montreux/Detroit Jazz festival and the Michigan Jazz Festival at Schoolcraft College and the first artistic coordinator of the Detroit Institute of Arts "Jazz at the Institute" series. She taught many students as artist in residence at Cass Tech in Detroit in the 70's, at Grosse Pointe High Schools in the 90's, privately in her home and at her own music school.
She appeared on many recordings beginning in 1958 with "Theme for the Tall One" on Argo Records. Her last recording, a jazz opera based on the works of William Shakespeare titled "Suite William", was released on her own label, Noteworks, in 1999 and performed at the University of Colorado. In 1986 she received the Michigan Award for Jazz, in 1990, the State of Michigan Governor's Award. In 1994 she was named "Musician of the Year" by the Southeastern Michigan Jazz Association (SEMJA). Over her lifetime she served on many Boards and advisory committees related to the arts, art education and to improving accessibility for people with disabilities.
A memorial service will be held at the Grosse Pointe Unitarian Church at St. Clair and Maumee at 7:00 p.m. on Tuesday, November 15th followed by a reception at the Church and a celebration at the Blue Pointe Restaurant at 17131 East Warren near Cadieux in Detroit. It was Ms. Bonnier's wish that any donations made in her memory be sent to the Upshaw Society for the Blind, the Grosse Pointe Unitarian Church, or to local National Public Radio affiliates.
Written by Dorian Makres